LUNCH BOX
Print
Sound
Visual
LUNCH BOX HISTORY (1986-1990)
Between 1986 and 1990, Long Beach (CA)-based indie rockers Lunch Box delivered scores of searing performances both at home and on the road, opening for everyone from the Damned to Stiff Little Fingers in large and small venues across the western US.
Fronted by fiery singer-songwriter Tim Swenson, already a veteran rocker at 20 (having served stints in bands like Thelonious Monster, Vagabond Soul, Stigmata, and Naughty Women), and driven by drummer London May, who had played with Dag Nasty, Reptile House, and Samhain, the band was rounded out by backing vocalist/bassist Tracy Stevens and guitarist Jim Novak (fomerly in Derf Scratch). When Novak left in 1988, T.S.O.L founding member Ron Emory stepped in to take over lead guitar duties.
Swenson's previous band, Vagabond Soul, had gained the attention of local writers and built a strong regional following by tireless gigging throughout California, and when he formed Lunch Box in 1986, Swenson sought to build on that momentum.
When producer Robert Fiest (a music scene veteran who had worked with an unlikely range of artists including Steve Nicks, Belinda, Carlisle, and Mojo Nixon) saw Lunch Box, he became a fan, booking them a key gig and agreeing to produce their first demo.
Long a favorite with the local ro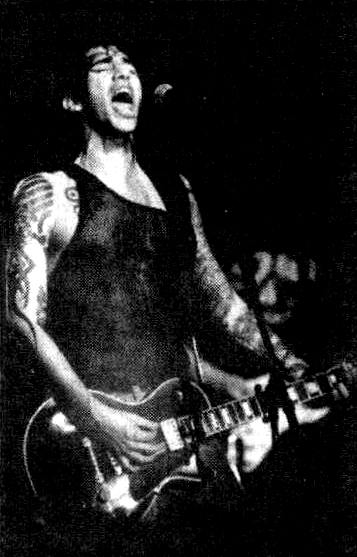 ck press, with a growing fanbase, Swenson and Lunch Box were approached by Fred Bourgoise of Bug Music, who arranged for their debut record to be the follow-up release to the critically acclaimed Grammy-winning record by Willie Dixon that had just put Bourgoise's newly formed label, Bug Records, on the map.
Unfortunately, while the record was in pre-production, Bug's relationship with its parent company and distributor, Capitol Records, went on the rocks. In the aftermath, Bug lost its distribution and the Lunch Box project was lost in the wreckage. Though the record was never finished, the band's existing recordings and songs were tied up for years in publishing limbo and are only now being released publicly. The recordings available here document the short but memorable career of Lunch Box.